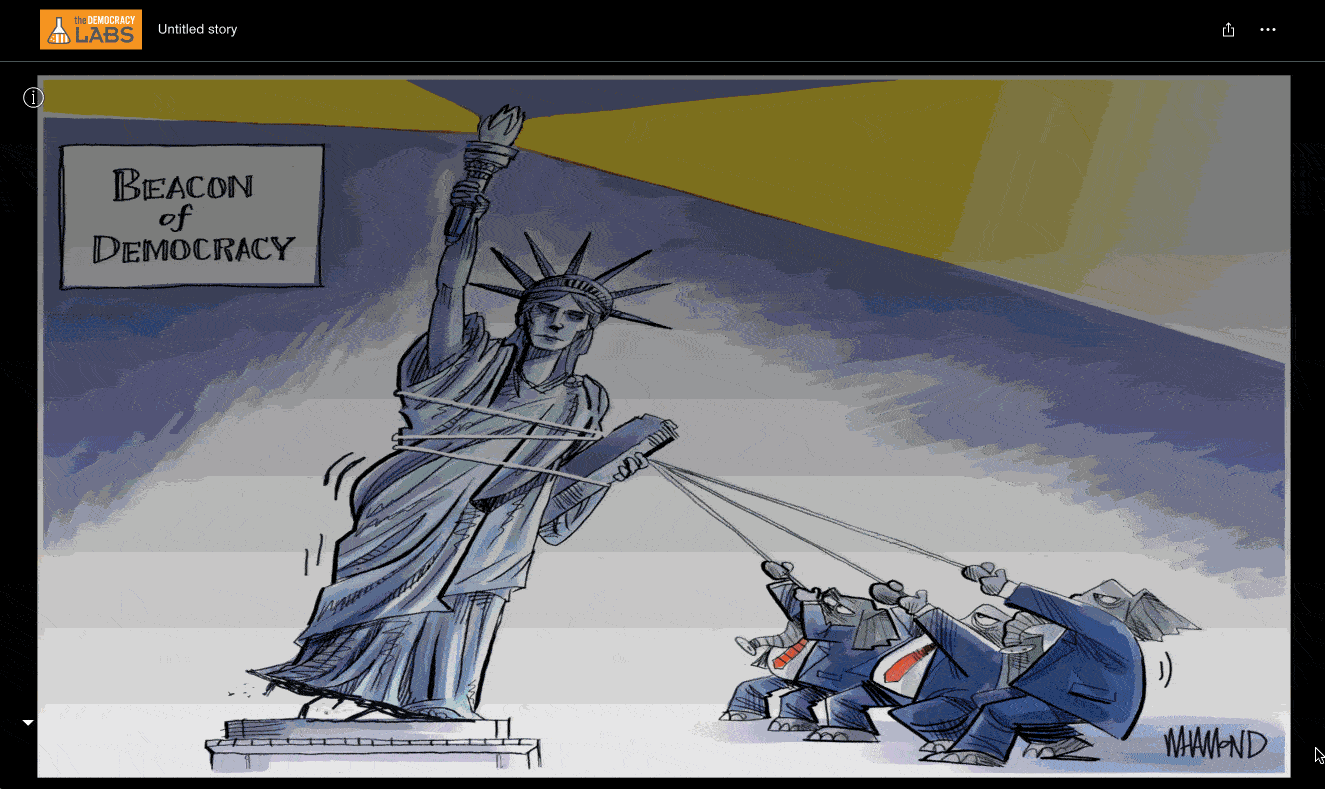 How do a handful of right wing extremists topple democracy?
Follow the money to see how billionaires have the stacked the Supreme Court with right wing partisans to enable their MAGA henchmen topple democracy.
The vote to oust McCarthy is a warning sign for democracy – Washington Post
The vote reflects the enormous power that a small fringe can wield – Tyranny of the Minority : Why American Democracy Reached the Breaking Point
Nancy Mace's seat could be safe thanks to the GOP Supreme Court – MSNBC
The rebels collectively represent just 1.8 percent of the country, all in safely Republican districts… that was enough to secure McCarthy's defeat in a closely divided House.
See the districts of these eight MAGA extremists with this StoryMap. See the gerrymandering? Dark money funders? Check who their voting benefits? Their rich donors or their constituents? And see how your vote can help save democracy and fix a system that billionaires have rigged.
Get the Republican Electoral Dysfunction (R.E.D.) app
Tyranny Of The Minority
A call to reform our antiquated political institutions before it's too late—from the New York Times bestselling authors of How Democracies Die. America is undergoing a massive experiment: It is moving, in fits and starts, toward a multiracial democracy, something few societies have ever done. But the prospect of change has sparked an authoritarian backlash that threatens the very foundations of our political system. Why is this happening here, and not in other diversifying nations? And what can we do to save our democracy? – Good Reads
Republican Electoral Dysfunction (R.E.D.)

"We are watching a very small number of folks from the House Republican conference have an outsize role in promoting a lot of congressional dysfunction and fiscal dysfunction. This is a move for volatility and not a move to pass legislation. They do not have the votes [for their own policy proposals], and they know that," said Laura Blessing, a senior fellow at the Government Affairs Institute at Georgetown University. – Washington Post
The dysfunction in the Republican Party is why the GOP should not be trusted again with the majority after next year's election.
Don't let Republican Electoral Dysfunction (R.E.D.) ruin your life. Vote for Democrats.
TakeAway: Vote for Democrats to protect democracy.
Deepak
DemLabs
This StoryMap can be freely shared with this link https://arcg.is/10OHTC
DISCLAIMER: ALTHOUGH THE DATA FOUND IN THIS BLOG AND INFOGRAPHIC HAS BEEN PRODUCED AND PROCESSED FROM SOURCES BELIEVED TO BE RELIABLE, NO WARRANTY EXPRESSED OR IMPLIED CAN BE MADE REGARDING THE ACCURACY, COMPLETENESS, LEGALITY OR RELIABILITY OF ANY SUCH INFORMATION. THIS DISCLAIMER APPLIES TO ANY USES OF THE INFORMATION WHETHER ISOLATED OR AGGREGATE USES THEREOF.
Read in browser »
Reposted from Democracy Labs with permission.
---
DemCast is an advocacy-based 501(c)4 nonprofit. We have made the decision to build a media site free of outside influence. There are no ads. We do not get paid for clicks. If you appreciate our content, please consider a small monthly donation.
---