Libraries bolster democracy. Republicans want to get rid of libraries.
"Virginia library at risk after rightwing push to defund it…Samuels Library in Front Royal's Warren county is set to close on 1 October as public funding has been withheld by the Warren county board of supervisors since July, cutting off crucial financial support." – The Guardian
"… Two Republican members of the Spotsylvania County School Board in Virginia advocated for burning certain books… Book burnings have a dark history linked to censorship and repressive regimes, and are often associated with Nazi Germany. Infamous Nazi book burnings in 1933 targeted thousands of books…" – Business Insider
What's behind the "rising Republican movement to defund public libraries and book bans" (Vox)? What services do libraries provide in addition to books? How could closing public libraries hurt your community? Use this map for public libraries in Virginia under Republican attack.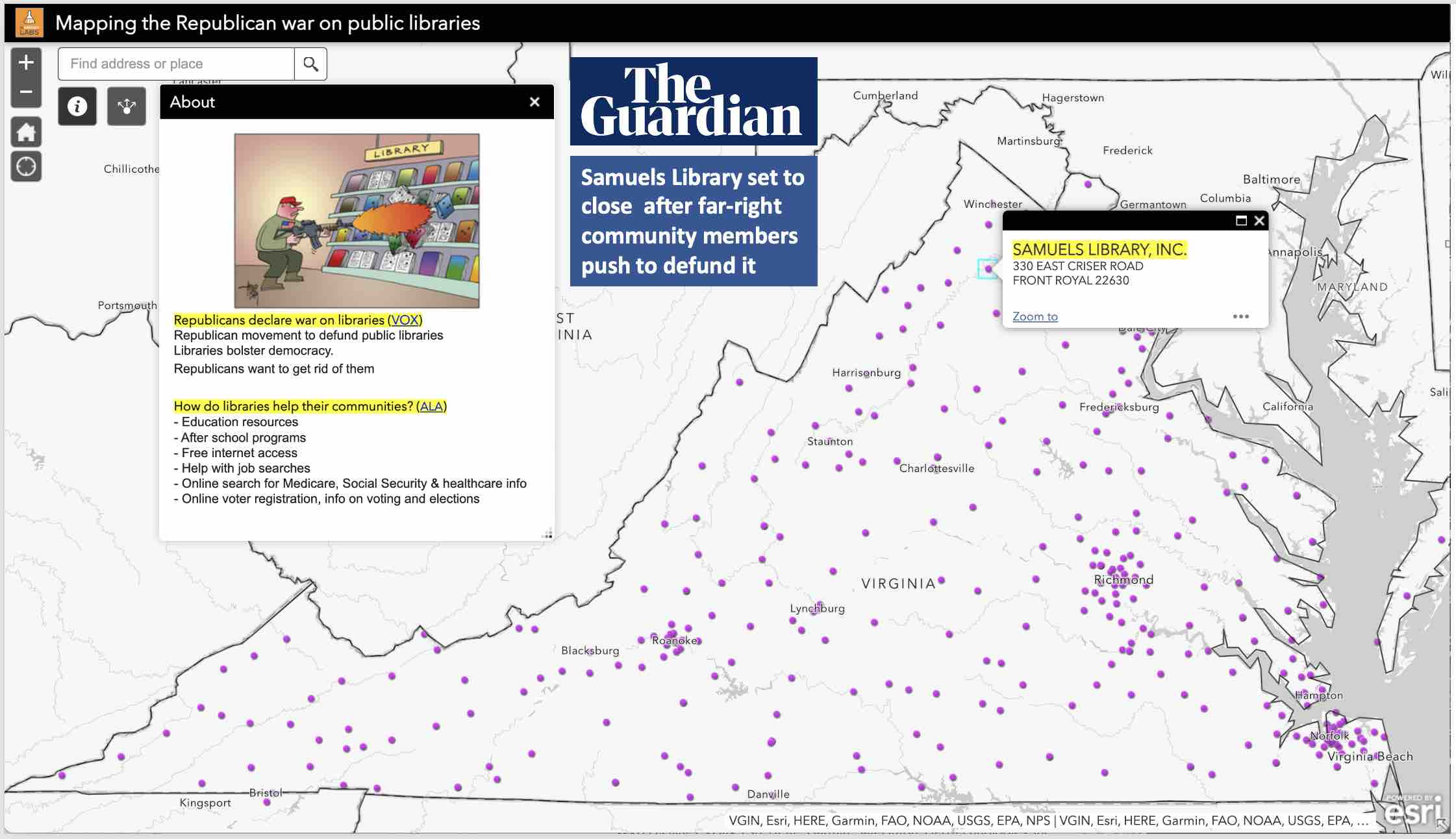 Campaign of intimidation
"What is happening in Front Royal, Virginia, should serve as a wake-up call for anyone who cares about the freedom to read. Because of an activist minority and a campaign of intimidation, an entire county may soon lose out on access to literature and information…Public libraries are a critical part of our democracy; to see one threatened by baseless claims and conspiracy theories is deeply alarming….", said Kasey Meehan, Freedom to Read program director at PEN America. – The Guardian
Republican censorship playbook
Usually, lawmakers start with book bans. If the bans aren't as effective as they'd hope, they escalate to threatening to defund local libraries. The threats tend to occur in states where lawmakers want to restrict health care for trans people, limit drag performances and curb how teachers discuss gender, sexuality, race, and history at school.
"This is part of a larger campaign that we call the 'ed scare,' which is a broad effort to heighten intimidation and anxiety around what can and cannot be taught and discussed in public spaces," said Kasey Meehan, the director of the Freedom to Read project at PEN America. "These growing campaigns want to suppress certain ideas and content areas, so the defunding of libraries, book bans, the educational gag orders that affect higher education and K-12, and even anti-drag show legislation are all connected. They're mechanisms in a larger campaign to control what is and isn't allowed in public spaces."
"Republicans in Missouri's House voted in late March to approve a state budget that would eliminate $4.5 million in funding for public libraries…" – Vox
The value of libraries
The services libraries provide now revolve not just around stacks of books, but also around internet connection and cutting edge digital technologies that help people fulfill basic needs and pursue a wide range of interests. The Expert assistance of library professionals, help facilitate: Education, Employment, Entrepreneurship, Empowerment, and Engagement for Everyone, Everywhere. – American Library Association (ALA)
Help with taxes during tax season, and computer and internet services.
Host job fairs and provide job application assistance.
Provides meeting rooms, study rooms, and in many cases serves as a heating and cooling center, and offers restrooms, for people who are unhoused.
Offer literacy services for kids like summer reading programs and story time events.
Wireless hotspots for checkout, notary services, faxing and printing, early literacy programs, homework assistance
Access to services designed for veterans and job seekers
Institute of Museum and Library Services (IMLS)
IMLS envisions a nation where individuals and communities have access to museums and libraries to learn from and be inspired by the trusted information, ideas, and stories they contain about our diverse natural and cultural heritage.
Champion Lifelong Learning: Museums, libraries, and archives are unparalleled sources of educational, information, health, job, and cultural resources. IMLS supports these institutions' work to open themselves up to all community members and visitors, bridging the gaps of distance, resources, or experience.
Strengthen Community Engagement: Museums, libraries, and archives can connect community members to develop or enhance a collective sense of place where everyone can feel respected and included. IMLS enables these institutions and their partners to foster dialogue that addresses and incorporates diverse community needs and experiences.
Advance Collections Stewardship and Access: Museums and libraries are responsible for preserving, managing, and providing the broadest possible access to the cultural, artistic, historical, natural, and scientific collections entrusted to their care.
TakeAway: Save your public library. Vote for a Democrat.
Deepak
DemLabs
DISCLAIMER: ALTHOUGH THE DATA FOUND IN THIS BLOG AND INFOGRAPHIC HAS BEEN PRODUCED AND PROCESSED FROM SOURCES BELIEVED TO BE RELIABLE, NO WARRANTY EXPRESSED OR IMPLIED CAN BE MADE REGARDING THE ACCURACY, COMPLETENESS, LEGALITY OR RELIABILITY OF ANY SUCH INFORMATION. THIS DISCLAIMER APPLIES TO ANY USES OF THE INFORMATION WHETHER ISOLATED OR AGGREGATE USES THEREOF.
Read in browser »
Reposted from Democracy Labs with permission.
---
DemCast is an advocacy-based 501(c)4 nonprofit. We have made the decision to build a media site free of outside influence. There are no ads. We do not get paid for clicks. If you appreciate our content, please consider a small monthly donation.
---