President Biden's SAVE plan brings relief to millions of struggling student loan borrowers.
"The SAVE plan is an income-driven repayment (IDR) plan that calculates payments based on a borrower's income and family size – not their loan balance – and forgives remaining balances after a certain number of years. The SAVE plan will cut many borrowers' monthly payments to zero, will save other borrowers around $1,000 per year, will prevent balances from growing because of unpaid interest, and will get more borrowers closer to forgiveness faster. The SAVE plan builds on the actions the Biden-Harris Administration has already taken to support students and borrowers, including cancelling more than $116 billion in student loan debt for 3.4 million Americans." – White HouseUnderstand how the SAVE PLAN will improve the lives of millions of student borrowers. We break down the plan with this infographic and audio guides in both English and Spanish.
Who is eligible and how the plan works
The SAVE plan is expected to be available to more than 20 million borrowers and is already in effect."Borrowers will not have to make payments if they have an income that is 225 percent of the federal poverty guidelines or less — that is, if they make less than $32,800 for individuals and $67,500 for a family of four. That covers more than a million borrowers, as estimated by the Biden administration, and payments will be suspended on an indefinite basis. Previously, income was only protected at 150 percent of the guidelines. People earning more than that amount will still see their monthly payments decrease by an average of $91 for individuals and $187 for a family of four as compared to before the pandemic payment freeze was instituted." – VOX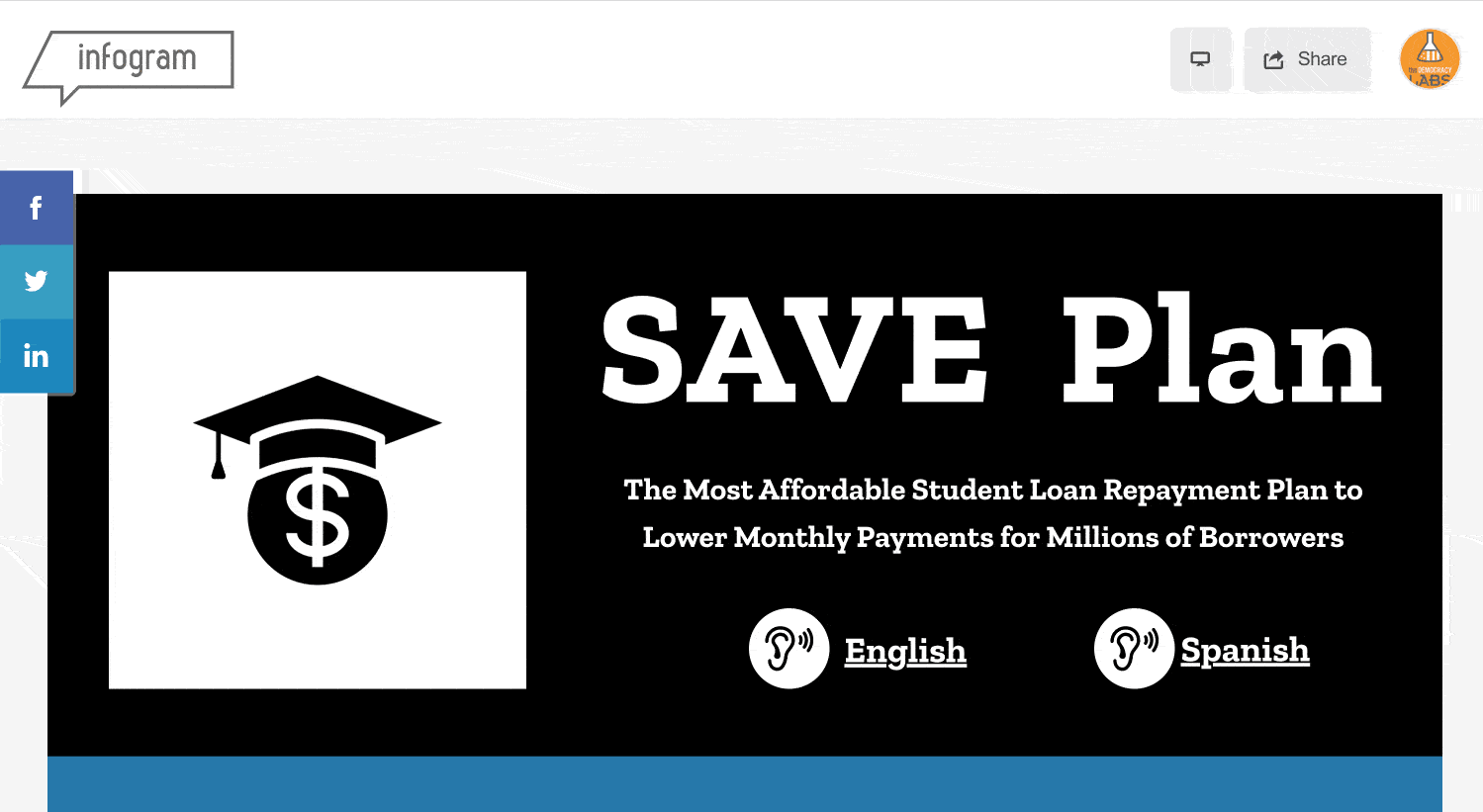 Make it easier to see how the Biden-Harris administration is delivering for Americans
The SAVE Plan brings relief to millions of students and it's important to understand. How does SAVE compare to the earlier REPAYE? What discretionary income will be used to calculate the loan payment? What is the interest rate in the SAVE Plan? Will interest keep piling up if you can't make an interest payment. When does the SAVE Plan go into effect?We create a summary from the White House, New York Times, VOX and Student Aid.
This summary was translated into Spanish.
These documents were converted into audio books using AI and uploaded to SoundCloud.
The SAVE Plan was shown an interactive infographic that leads to more resources with.
It provides a lot of details behind a a user-friendly interface.
Clicking on an item in the infographic reveals more details and begins audio streaming.
The infographic can be shared with this link or embedded in a website.
Resources
Biden's New Student Loan Repayment Plan Is Open. Here's How to Enroll – NY Times
How to take advantage of Biden's new student loan relief plan – Vox
The Most Affordable Student Loan Repayment Plan Ever – WhiteHouse
Apply for an Income-Driven Repayment Plan – StudentAid
Audio guides
SAVE Plan audio guide in English
SAVE Plan audio guide in SpanishTakeAway: Make it easier for people to see how Democrats are delivering for them.Deepak
DemLabsDISCLAIMER: ALTHOUGH THE DATA FOUND IN THIS BLOG AND INFOGRAPHIC HAS BEEN PRODUCED AND PROCESSED FROM SOURCES BELIEVED TO BE RELIABLE, NO WARRANTY EXPRESSED OR IMPLIED CAN BE MADE REGARDING THE ACCURACY, COMPLETENESS, LEGALITY OR RELIABILITY OF ANY SUCH INFORMATION. THIS DISCLAIMER APPLIES TO ANY USES OF THE INFORMATION WHETHER ISOLATED OR AGGREGATE USES THEREOF.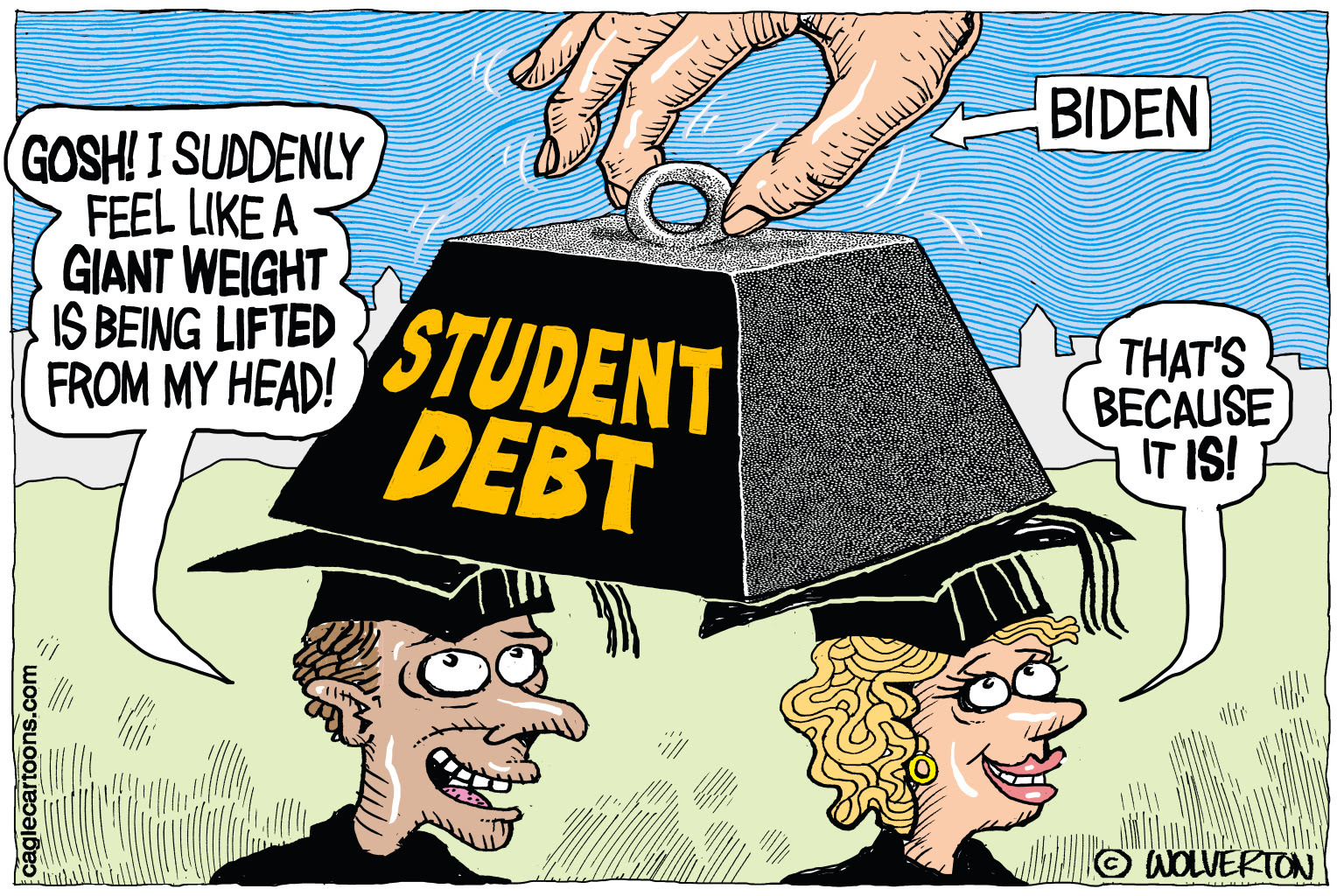 Reposted from Democracy Labs with permission.
---
DemCast is an advocacy-based 501(c)4 nonprofit. We have made the decision to build a media site free of outside influence. There are no ads. We do not get paid for clicks. If you appreciate our content, please consider a small monthly donation.
---