ACTIONS
A serious campaign finance violation…or just an unbelievable deal on rent?
Thanks to the efforts of local activists and concerned citizens, we now know a lot more about our newest supervisors. And maybe those supervisors are learning that Ventura County residents don't take gaslighting and ignoring the concerns of the majority of citizens lying down. Please call your supervisor and ask that they put extending our old election ordinance through the disposition of Gorell's alleged campaign violation on the Board of Supervisors' agenda. POST: https://indivisibleventura.org/2023/05/07/a-serious-campaign-finance-violationor-just-an-unbelievable-deal-on-rent/
Thanks also to everyone who has written letters to the editor. Short ones, long ones, they've all been amazing! Information on how to do it in this post!
POST:https://indivisibleventura.org/2023/04/12/who-told-you-to-do-this-the-ventura-county-board-of-supervisors-gop-majority-has-gone-rogue/
Hey, "Dark Brandon" – Tell Kevin and his band of economic terrorists to "cut the crap!" – Write a "Dear Joe" letter this weekend! It's easy!
Biden met with House Majority Leader Kevin McCarthy, whose party wants to play a game of high-stakes chicken with the economy of the country they swore to protect. The conversation continues to next week, with the GOP demanding a multi-year spending freeze, with any resulting recession being laid at the feet of Democrats. According the 14th Amendment of the Constitution, Biden has the right to ignore the hell out them and just keep the country solvent. Urge him on! This is a big deal, without modern precedent, but necessary now that the GOP has devolved into an vehicle for the ultra-wealthy oligarchs and far-right extremists.
POST: https://indivisibleventura.org/2023/05/02/hey-dark-brandon-tell-kevin-and-his-band-of-economic-terrorists-to-cut-the-crap/
The MAGA Default Crisis is just another diversion…Talk to your legislators. Email them this weekend!
The Whitehouse just put out a briefing to explain the damage the GOP's ransom demands will wreak on the American people, before they will do their job, which is paying off last year's debts. (https://www.whitehouse.gov/omb/briefing-room/2023/04/20/congressional-republicans-legislation-22-cuts-that-would-harm-american-families-seniors-and-veterans/)
Their extortion will harm every age group, from babies to seniors, from moms to veterans. They're even willing to cut safety inspections fom railroads, so more towns can be poisoned. This is all a scam – a messaging campaign to their faithful, a bent knee to their wealthy donors, and a game of chicken they can't afford to play! Thank our representatives for not falling for it and tell them to hold the line.
POST:https://indivisibleventura.org/2023/04/20/the-maga-default-crisis-is-just-another-diversion/
Resources to share – downloadable media graphics from Indivisible.
Download them here: 
https://drive.google.com/drive/folders/1NkJqR6nAQsjOe73p3DK0OBn6lXzWi2B8
EVENTS HAPPENING SOON!
Thursday – 05/18/2023 – VIRTUAL -BYOP Textbanking – Register Dems in swing states! (4:00 – 5pm PDT)https://www.mobilize.us/mobilize/event/405150/
Saturday – 05/20/2023 – THOUSAND OAKS – Creating a Sustainable, Balanced Garden Ecosystem (10:00 am – 12:00) Calleguas Municipal Water District Board Room, 2100 E. Olsen Road, Thousand Oakbit.ly/CMWDWorkshops
Sunday – 05/21/2023 – OXNARD – SWAP MEET JUSTICE – SOCIAL JUSTICE FAIR returns to Oxnard College's Marketplace on 4/30 from 9:00 am – 3:00! We are located near the gym New website!: swapmeetjustice.org Facebook link: https://www.facebook.com/events/240657581951347
Sunday – 05/21/2023 – WESTLAKE VILLAGE – Preserving Democracy: Everywhere All at Once (2:00 pm – 4:00 pm) Hyatt Regency Westlake, 800 S. Westlake Blvd., Westlake Village, CA – Purchase tickets by May 15th, noon.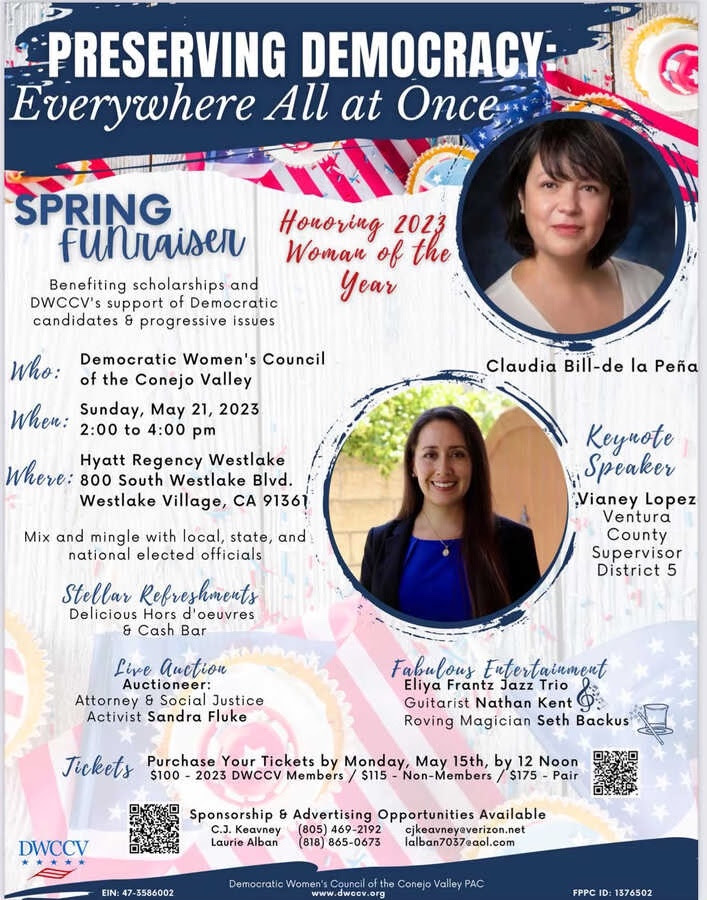 Sunday – 05/27/2023 – THOUSAND OAKS – "Curious About EVs? An Introduction to Owning and Driving an Electric Vehicle" (6 pm) Chalice Unitarian Universalist Fellowship of the Conejo Valley, 3331 Old Conejo Rd Newbury Parkhttps://www.facebook.com/events/246220531240815/
Juneteenth Oxnard is looking for vendors!




Please DONATE to the cause!
We are looking for a couple of people who'd be willing to help out on our twitter team for a day or two a week. If you are interested, please reply to indivisibleventura@gmail.com with "TWITTER" in the subject line and our expert twitter wrangler will explain how it all works.

Indivisible Ventura is completely volunteer run and your donation will support the direct costs of organizing in Ventura — things like expenses for Swap Meet Justice, posters, art supplies, stamps, transportation, and more! Although we've defeated Trump and taken back the Senate, we have to act urgently to save our democracy and enact other desperately needed reforms. Getting it done depends on all of us. Let's stand together, indivisible. Indivisible Ventura is one of 6,000 grassroots Indivisible groups across the country. Together, we will win. (https://secure.actblue.com/donate/ven383907253)

The usual caveats…
Keep ahead of us on our calendar scroll here: tinyurl.com/VC-calendar

• If we screw up a link, our apologies. You can find the original post here: tinyurl.com/VC-calendar
• We're putting up information on local protests and actions by others we're finding from informal sources.

These listings are not endorsements nor guarantees as to time/place/type of protest or participant safety. Events can and have already been cancelled without notice.
• Check ahead for future events there as well. We often miss morning event postings.
• If we screw up or miss information about an event, please send an email to indivisibleventura@gmail.com
---
DemCast is an advocacy-based 501(c)4 nonprofit. We have made the decision to build a media site free of outside influence. There are no ads. We do not get paid for clicks. If you appreciate our content, please consider a small monthly donation.
---