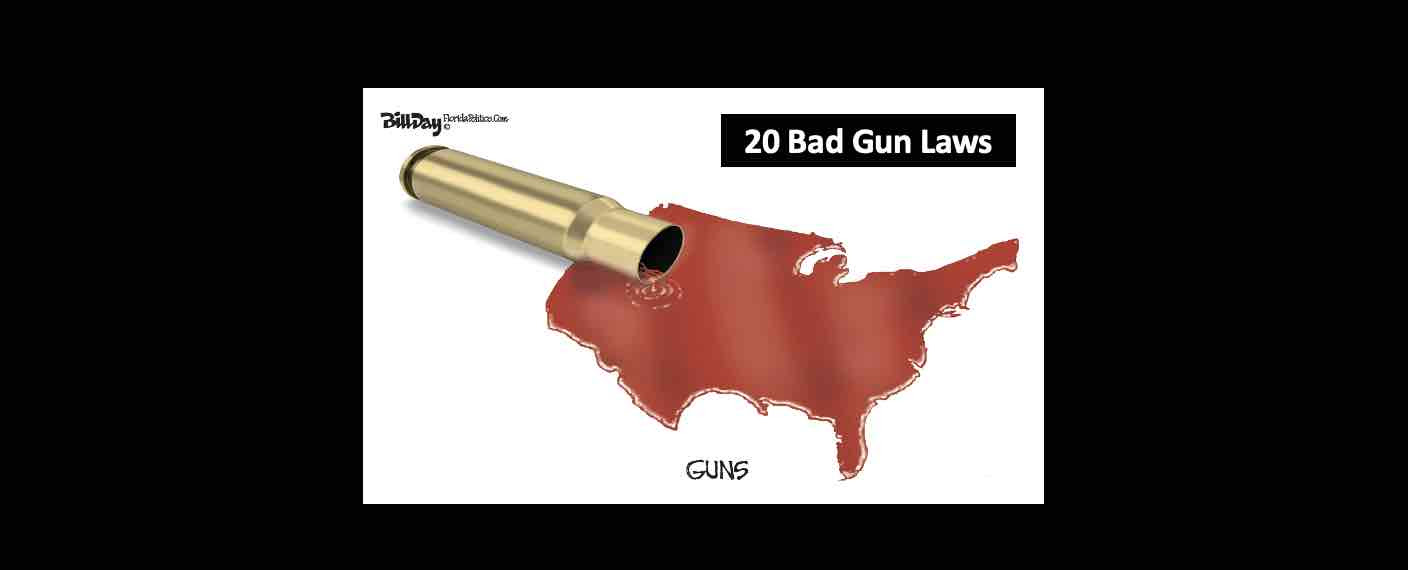 Black teen shot after trying to pick up brothers at wrong house – ABC7
"The Kansas City Star reported that the 16-year-old victim, identified online by family members as Yarl, was hospitalized Thursday night after he was shot while trying to pick up his younger twin brothers from a friend's house. Police said he went to the wrong house and was shot there. Investigators also will consider whether or not the suspect was protected by "Stand Your Ground" laws…"
What is the 'Stand Your Ground' law? What other bad gun laws are getting Americans killed?
Bad gun laws get Americans killed
Controversy over Castle Doctrine and Stand Your Ground Laws
"Controversy has arisen over whether stand your ground laws, and even castle doctrine laws, help more than their potential to hurt. Those tasked with enforcing laws, and prosecuting criminals, have generally claimed that these laws make it difficult to prosecute people who shoot so-called intruders, then claim self defense.
Example: Adam and Kenneth get into a serious argument on Kenneth's front porch. Kenneth pulls out a gun and shoots Adam, killing him. A neighbor calls the police after hearing the gun shot, and when the officers arrive, Kenneth tells them he felt threatened, believing his life was in danger, and so he shot Adam. The state had a castle doctrine law, so Kenneth feels he has the right to protect himself in his home. He tells police that, since there were no witnesses to the argument, there is no one to confirm or contest Kenneth's claim that he was afraid for his life.
In this example of castle doctrine defense, Kenneth is claiming an absolute right to protect himself and his property. This may make it difficult for prosecutors to charge him with a crime for killing Adam. The intent of castle doctrine and stand your ground laws was to relieve individuals from the threat of prosecution when they use deadly force to protect themselves in the face of serious bodily injury or death. It has had the unexpected effect of allowing certain people to get away with unreasonable use of force." – Legal Dictionary
"Dorothy, You may be shot in Kansas" (paraphrasing Wizard of Oz)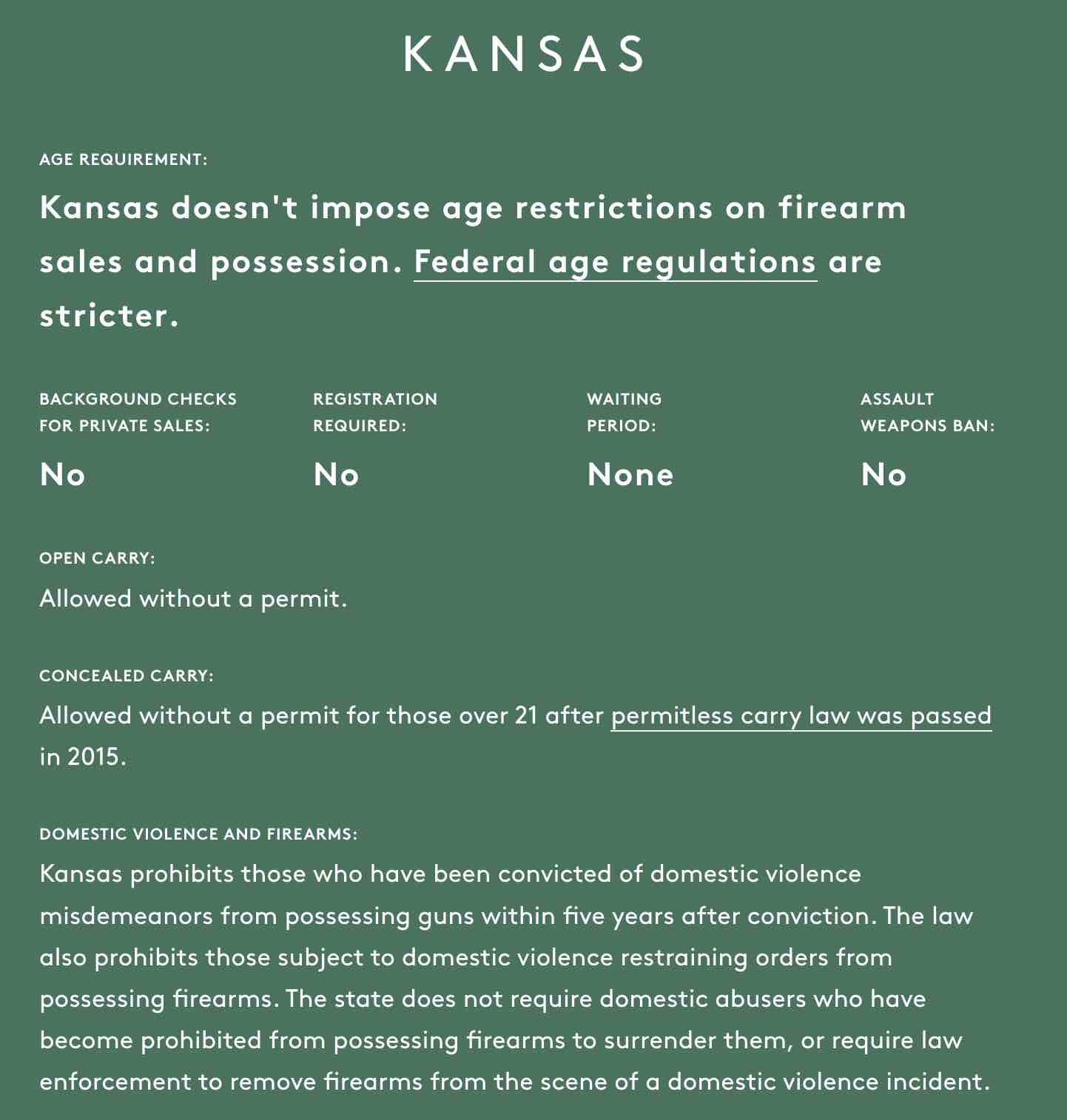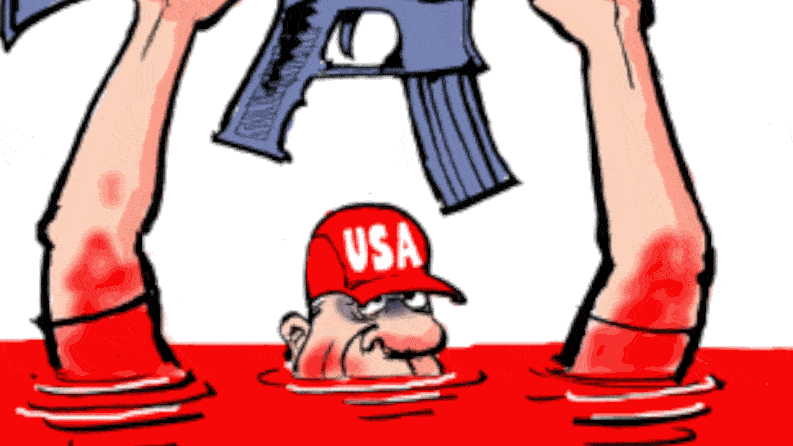 People will die
Polls show that a majority of Floridians oppose the policy, and previous surveys have indicated that Florida voters overwhelmingly support other gun safety measures like universal background checks and mandatory waiting periods.
Gun safety groups have provided evidence suggesting the permitless carry law will contribute to an increase in violence. They accuse the governor of prioritizing presidential ambitions over his constituents' safety in a state that has witnessed two of America's deadliest mass shootings. "It all has to do with talking points and setting him up to run for higher office," said Congressman Maxwell Frost, a Democrat of Florida. "And as a result, people will die." – The Guardian
Act against gun violence
On April 10, 2023, a gunman armed with an AR-15, killed four people in Louisville, Kentucky, in what was the 146th mass shooting of the year. The shooting came only two weeks after three young children and three adults were killed in a mass shooting at Covenant School, in Nashville, TN. These shootings, once again, have shown us that assault-weapons are the weapon of choice for mass shooters. And when these uniquely lethal firearms are paired with large-capacity magazines and accessories like pistol braces as they were in Nashville, the results are catastrophic.
Despite what some lawmakers claim, we know that these senseless tragedies are preventable. We must take action and pass life-saving gun reform measures. Our collective power can make the difference. Together, we have the power to save lives. Learn more at Brady United
Groups fighting to curb gun violence
Brady United
Newtown Action Alliance
March For Our Lives
Everytown For Gun Safety
Students Demand Action
Moms Demand Action
TakeAway: Elections have consequences. Someone you know may be killed by gun violence. Next time, vote for a Democrat.
Deepak
DemLabs
DISCLAIMER: ALTHOUGH THE DATA FOUND IN THIS BLOG AND INFOGRAPHIC HAS BEEN PRODUCED AND PROCESSED FROM SOURCES BELIEVED TO BE RELIABLE, NO WARRANTY EXPRESSED OR IMPLIED CAN BE MADE REGARDING THE ACCURACY, COMPLETENESS, LEGALITY OR RELIABILITY OF ANY SUCH INFORMATION. THIS DISCLAIMER APPLIES TO ANY USES OF THE INFORMATION WHETHER ISOLATED OR AGGREGATE USES THEREOF.
Reposted from Democracy Labs with permission.
---
DemCast is an advocacy-based 501(c)4 nonprofit. We have made the decision to build a media site free of outside influence. There are no ads. We do not get paid for clicks. If you appreciate our content, please consider a small monthly donation.
---