Whitmer, Dems invest in student, adult mental health resources
Ask anyone seeking mental health care treatment in Washtenaw County about their experience accessing care, and you will likely here the same story: crowded psychiatric ER waiting rooms, months to schedule with a new therapist, up to two years for diagnostic testing, inability to find an inpatient bed, and overwhelmed care providers.
Governor Whitmer acknowledged this dire situation in her 2022 State of the State address and has worked to address these issues at the root. Earlier this month, using money from the American Rescue Plan, Whitmer and the Michigan legislature approved $500 million for student academic recovery and mental health. Funding will be used to attract and retain teachers, school psychologists, counselors, social workers, and nurses.
Whitmer also worked to expand the Michigan State Loan Repayment Program (MSLRP) program for behavioral health providers. In addition, last Thursday, May 19, Whitmer signed legislation investing $800 million in treatment, prevention, and mental health in response to the opioid crisis.
Other highlights of Whitmer's executive budget include behavioral and mental health structural reform, reducing racial disparities, and investments for front line workers.
More notable quotes:
"There isn't a governor in the country who could have predicted the challenges that lay ahead just over a year ago, but Governor Whitmer has helped lead Michigan through a difficult time and we are now emerging from the public health crisis in a very strong financial position," said State Budget Director David Massaron. – WLNS.com article by Andrew Birkle
"Now, more than ever, our students need access to these services, and there's no better place than in our schools to provide them. We are very pleased to see this important funding going to districts across the state so they can hire the key staff needed to support our students," said Dr. Tina Kerr, Executive Director of the Michigan Association of Superintendents & Administrators.
Read Whitmer's Executive Budget FY 2023
WCDP June Program Features Judicial and MI Senate Candidates 
In our ongoing effort to help voters make informed decisions in the upcoming elections, the Washtenaw County Democratic Party (WCDP) will host a Zoom webinar panel discussion on Saturday, June 4, at 9:30 AM with the candidates vying for the November election ballot slots for Judge of the the Washtenaw County Trial Court and the state senate seat in the newly drawn 14th district.

Voting for judges matters, as recent events have made clear. But about 25% of those who vote don't vote for judges on the ballot. The nonpartisan chooseyourjudges.org says that of those who do vote, 80% can't identify any judicial candidates and make decisions based on incumbency, party affiliation, or identification with the candidate name, rather than the candidates' stands on issues.
The judicial candidates — Marla Linderman Richelew, executive director of the Washtenaw Association for Justice, and Arianne Slay, Deputy City Attorney of the City of Ann Arbor– will discuss their positions and answer participant questions.
Two Democratic candidates for the 14th State Senate district will also take part in the June 4 webinar: Chair of the Washtenaw County Board of Commissioners Sue Shink and program director of America Votes Kelsey Heck Wood. The new district includes Chelsea, Dexter, portions of Ann Arbor, and most of Jackson County.

Additional information—including how to submit questions for the candidates, and the Zoom link for the webinar—can be found on the WCDP Web site.
Get Details & Add to Calendar! 
Getting Promote the Vote on the November ballot is crucial!
Getting Promote the Vote on the November ballot is crucial! In order to get the 425,059 petition signatures needed by JUNE 30, we need your help today.
We can help you:
You can also sign up with Voters Not Politicians, who will give you lots of support and guidance for circulating. Go to VNP and click "volunteer".
Your friends, neighbors, and coworkers want to sign this petition. Remember: two-thirds of them voted to make voting easier in 2018!
Need more info? Contact us at poc@washtenawdems.org. Our Area Captains have everything you need and they will support you every step of the way.
Petition signing events coming to a neighborhood near you!
WCDP is organizing signing parties to make sure we get Promote the Vote on the November ballot! You will also be able to sign for Reproductive Rights For All, Raise the Wage, Good Time Credits and more. Take home a petition or two to help your friends and family sign.
Stop by and meet some new friends! Our last one for this month is scheduled for:
If you'd like our help to organize a signing event, contact poc@washtenawdems.org. We have the circulators, petitions, tables, signage, invite templates – full service!
REMEMBER: SIGN THE RHYME – PROMOTE THE VOTE!
 Find & Sign a Promote the Vote Petition! 
We would love to see all our members come out for this year's WCDP Garden Party! Hosted by Chris and Anne Savage, this special fundraising event is scheduled for Sunday, July 17 from 3-6 p.m.
What will my donation be used for?
WCDP is managed by an entirely volunteer executive board, committee members and hundreds of awesome volunteers. That means we have zero staffing costs. Every dollar we raise is used to keep voters informed and increase voter turnout for our Democratic candidates!
How do we work to increase voter turnout in Washtenaw County?
WCDP hosts candidate forums and issue-based presentations, maintains a critical voter database, and creates communications to update the community on issues that impact them. Donations also go toward community outreach, materials used in canvassing thousands of homes, publishing a voter guide, and keeping WCDP's Ypsi office open. Keeping this work going 365 days a year is one of the best investments you can make in local democracy!
Purchase your ticket to this fabulous party here: 2022 WCDP Garden Party.
Can't make it but want to help? Please visit WashtenawDems.org to donate online!
 Free help with computers at Ypsi office!

WCDP volunteers are helping area residents with their computers starting Monday, June 6 from 4-7 p.m. Bring your laptops or tablets (PCs and Macs) to the Washtenaw County Democratic Party Office, 418 West Michigan Avenue, next to Dos Hermanos.
A computer expert will be available to help with:Downloading programsCreating an email or Facebook accountBacking up your documents and photosChecking for malware or virusesPerformance issues—slowdowns, unexpected shutdowns,overheating, unusual noises, software problems 
Computer assistance will be available Mondays, JUNE 6, 13, 20, and 27, 4-7 p.m. Call 734-769-8726 to make an appointment.
Can you take a 2-hour shift at a WCDP merchandise table? People need buttons, stickers, and yard signs to live.  It's kinda wild how much people just love merch!  And we need you to get it to 'em, especially at: The Ann Arbor Farmers MarketThe Ann Arbor Art FairPride FestivalAfrican American FestivalText Crystal Lyte @ 734-972-3859 or email dlmexico@umich.edu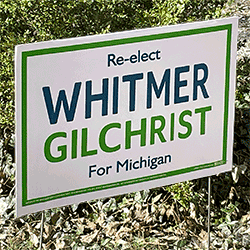 Yard Signs AvailableWhitmer Gilchrist Nessel Benson: $15Black Lives Matter: $5Whitmer Gilchrist on white: $10 Sales support the WCDP. We can only accept check (preferred) or cash.  Pick up at the WCDP Ypsilanti office  on Wednesdays, 5 to 7, Saturdays, 11 to 3; and Sundays, 1 to 3.  Please call ahead to check on stock: 734-879-0556.
ActionHub connects you to 100+ local groups who share our Democratic values.  We are better together. Take action today.
Bridge Michigan continues to do the reporting a democracy needs with their detailed ballot proposal tracker, explaining what each would do, major funders, & more. Confused? Find out what you need to know.
Your elected representatives
Find your county commissioner here.
State Senator Jeff Irwin has a regular Virtual Coffee Hour — To receive the Zoom access code and the next date, please fill out this form:
State Rep. Yousef Rabhi, 53rd House district: yousefrabhi@house.mi.gov, Phone: (517) 373-2577. https://housedems.com/yousef-rabhi/. Currently virtual coffee hours with Yousef are at 10 am on the 4th Saturday of the month.
State Rep. Ronnie Peterson, 54th House district: ronniepeterson@house.mi.gov Phone: (517) 373-1771 | Toll-Free: (855) 347-8054, https://housedems.com/ronnie-peterson/
State Rep. Donna Lasinski, 52nd House district: donnalasinski@house.mi.gov, Phone: (517) 373-0828 | Toll-Free: (855) 627-5052, https://housedems.com/donna-lasinski/ (sign up for emails here).
State Rep. Felicia Brabec, 55th House district: FeliciaBrabec@house.mi.gov, Phone: (517) 373-1792, https://housedems.com/felicia-brabec/.
The Final Word
---
DemCast is an advocacy-based 501(c)4 nonprofit. We have made the decision to build a media site free of outside influence. There are no ads. We do not get paid for clicks. If you appreciate our content, please consider a small monthly donation.
---