20 April 2022
We will not let hate win
Watch it. Read it.  Whatever you do, share it. 
"Those women from Michigan" go deeper than our governor, Attorney General, & Secretary of State. They're in the Capitol, our Supreme Court, our city halls, schools, businesses, and homes.
They're fighting for Michigan and America with all they have. And so are you.
You can defeat hate at the ballot box, and it starts with choosing strong Democrats in the primaries.  The new districts mean everything is in play.  We can do this.  We have to.
---
Get Meeting Details on Facebook
This Monday, April 25th @ 6 p.m. –  our spring special meeting to consider the endorsement of 2022 ballot proposals and various resolutions. Registration required. Get more details on our website.
May WCDP Meeting & Candidate ForumGet to know the Democratic primary candidates for two of Washtenaw County's new State House districts. The newly redrawn House District 32 covers the city of Ypsilanti, Ypsilanti Township and parts of Pittsfield and Superior townships.

House District 47 includes northwest Ann Arbor and stretches west and south to cover Scio Township, Dexter, Manchester, other parts of western Washtenaw, and southeastern Jackson County.Invited candidates include:
District 32:
Marshall Averill
Roderick Casey, Sr.
Robyn Lynn McCoy
Jimmie Wilson, Jr.
District 47:
James Johnson, Jr.
Carrie Rheingans
Join the webinar on May 7 @ 9:30 a.m. https://us02web.zoom.us/j/83415806030
Save the date: Add to Google Calendar
Be a WCDP Candidate PartnerRunning in Washtenaw County and need ways to reach voters? Sign up for a 3- to 5-minute spot to introduce yourself and talk about the office you are seeking at one of our upcoming general meetings. Get a spot as a Candidate Partner on our website.  These ads will also be shared via email &  social media, reaching over 3,000 engaged county DemsWebsite ad pricing:City Council/Township Officials = $99County Electees/Judicial = $125Legislators = $175Contact Mary Hall-Thiam at mhallthiamaka@gmail.com for more information.
---
Join the WCDP team!

The Precinct Organizing & VOICE committees need you!  Even a few hours can make a difference in 2022. Roles in demand now include:
 
Precinct Delegate: PDs are elected by neighbors to represent them to the WCDP. It's easier to get elected than you think! Find out how here, and find out why here. Paperwork is due by May 3, so now is the time!

Voter Guide Indesign Team:  Our voter guide reaches tens of thousands of people and is a key part of voter mobilization.  And it's a big job. Looking for folks with Adobe Creative Cloud installed, print production experience, and experience iwth inDesign & Photoshop. Is that you?  Let us know.

Fill out the Volunteer Interest Form and we'll get back to you right away.  We're all in this together!
Be an Election InspectorDeadline looming: May 15!

We need good Democrats at the polls making sure that election laws are followed and that our voters are not intimidated. The Big Lie is still very much alive in Michigan, and Republicans are doing everything they can to suppress votes and create chaos in voting and vote counting.  But you can help.
Get the skinny on what election inspectors do, then email chair@washtenawdems.org to volunteer.  Time is short since we need to inform township and village/city clerks by May 15.  Now is the time! 
Click to Volunteer & Protect Democracy!
Yard Signs Available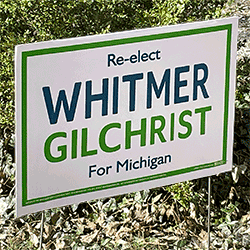 Whitmer Gilchrist Nessel Benson: $15
Black Lives Matter: $5
Whitmer Gilchrist on white: $10 

Sales support the WCDP. We can only accept check (preferred) or cash.  Pick up at the WCDP Ypsilanti office on Wednesdays, 5 to 7, Saturdays, 11 to 3; and Sundays, 1 to 3.  Please call ahead to check on stock: 734-879-0556.
Petition-signing and much more
There are many important ballot initiatives that need signatures and many ways to help.  Catch up on what you can do from home, events in our area, and connections with allied organizations at the WCDP Mobilize dashboard.  

As we get closer to November we'll be using it more & more, so get in the habit now!
ActionHub connects you to 100+ local groups who share our Democratic values.  We are better together. Take action today.
---
DemCast is an advocacy-based 501(c)4 nonprofit. We have made the decision to build a media site free of outside influence. There are no ads. We do not get paid for clicks. If you appreciate our content, please consider a small monthly donation.
---