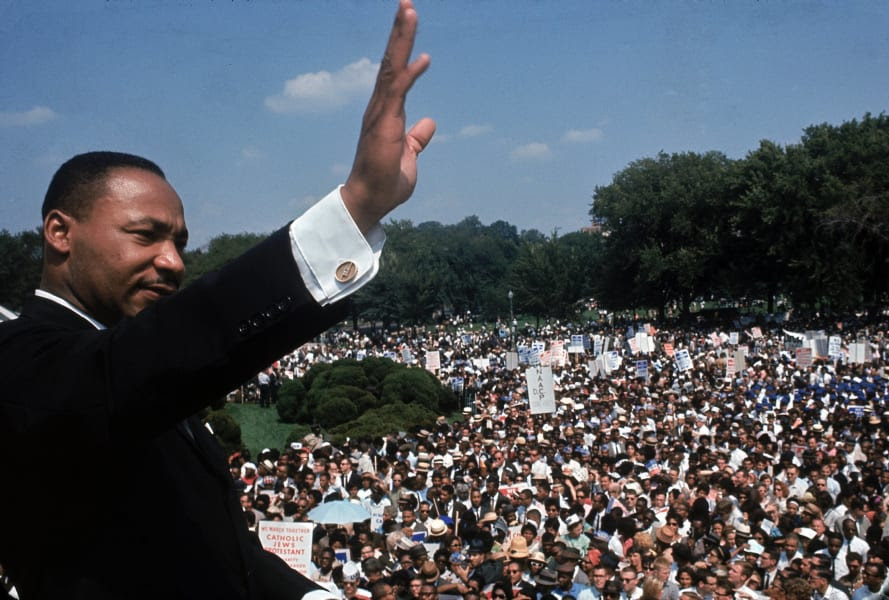 "So long as I do not firmly and irrevocably possess the right to vote I do not possess myself. I cannot make up my mind — it is made up for me. I cannot live as a democratic citizen, observing the laws I have helped to enact — I can only submit to the edict of others.

So our most urgent request to the president of the United States and every member of Congress is to give us the right to vote. Give us the ballot and we will no longer have to worry the federal government about our basic rights… Give us the ballot and we will transform the salient misdeeds of blood-thirsty mobs into calculated good deeds of orderly citizens." —Reverend Martin Luther King, Jr., May 17, 1957
Join us in honoring the legacy of Dr. Martin Luther King Jr. and take action now.
Tell our president and senators to honor Martin Luther King Jr. with action and protect our voting rights.
"There is nothing new about poverty. What's new is that we have the resources to get rid of it." —Dr. Martin Luther King Jr., 1964 Nobel Peace Prize address
President Biden's American Rescue Plan, which lifted millions out of poverty and led to record economic growth, proves that Dr. King's words are still true. Republicans voted against it and are doing all they can to stop part two of President Biden's Build Back Better agenda, even though Biden has demonstrated that bottom-up economics are far more effective than Republicans' tired old trickle down scams that enrich the wealthy and powerful few at the expense of We the People.
Dr. King was a strong advocate for America's labor movement. We've been heartened by the Biden Administration's support for stronger labor unions, record-breaking job growth, and the Made In America Tax Plan designed to fund the Build Back Better agenda.
In 1967, Dr. King articulated a vision: "We must rapidly begin the shift from a 'thing-oriented' society to a 'person-oriented' society… A true revolution of values will soon look uneasily on the glaring contrast of poverty and wealth." That remains as true today as it was back then. After the last administration's cruel, corrupt backlash against progress, we are glad President Biden and the Democrats in Congress are reminding our nation of the importance of all of our workers.
We're also inspired by the work of Rev. Dr. William Barber II and Rev. Dr. Liz Theoharis in reviving the Poor People's Campaign to continue pursuing Dr. King's vision in the 21st century, and we join them in urging the Democratic Party to keep fighting for social and economic justice. Learn more about the history behind the modern Poor People's Campaign on our blog.
What, Another Election?!?
It's election time again!
Yes, again. San Francisco is holding a January-February 2022 consolidated special election, and voting starts in about a week.
Ballots will go out imminently, and depending on where in the City you're registered to vote, yours will have up to three things to vote on. We aren't offering any recommendations or endorsements, but we can tell you what's on the ballot and how to cast yours.
If you're interested in participating in activities like drafting letters to our Members of Congress and developing our strategy for influencing them, the Indivisible SF Federal Working Group is where it happens. Join us at our next meeting on Thursday, January 13. Details on how to register below!
ISF Federal Working Group meeting: Thursday, January 13, 7:30–9 PM.Register here to join our regular Zoom meeting, where we work together to develop strategies for influencing our Members of Congress and the Biden administration to support a progressive agenda. All are welcome to participate and contribute, even if you've never attended an ISF meeting before.
Fight Back Fridays: Friday, January 14, 5–6PM. Join us every Friday to demand that Senator Feinstein, other Democratic Senators, and President Biden do more to defend our democracy. We gather each week at 1 Post in SF (in front of Senator Feinstein's office building, at one of the Montgomery Street BART exits). We'll rally every Friday until voting rights legislation is passed. BONUS: We have signs for you! RSVP via EveryAction.
About this week's photo
If you've seen our newsletter posts on Twitter and Facebook, you might have noticed that we include a photo or graphic with each issue.
Today's image, as well as those in this newsletter, are from CNN's gallery of color photos from the 1963 March on Washington.
Keep Fighting,
---
DemCast is an advocacy-based 501(c)4 nonprofit. We have made the decision to build a media site free of outside influence. There are no ads. We do not get paid for clicks. If you appreciate our content, please consider a small monthly donation.
---