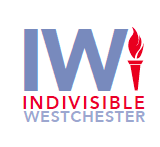 Tell Trump He's Not Welcome in Westchester!

Trump is headlining a fundraiser for the NY GOP at his golf course in Briarcliff on Thursday, August 5th. Come stand with us against authoritarianism, corruption and hatred in our state being fueled by Trump and his enablers within the Republican party!

Click here to register for the protest and get up to date information regarding location and parking. The protest begins at 7PM.
The Thursday fundraiser comes on the heels of a gala honoring Trump at Winged Foot Golf Club in Mamaroneck on Wednesday. Click here for more details about the controversial event which is also creating outrage within the local community.
---
Raise Money for Fair Fight
 
Money raised will benefit Fair Fight Action and support the fight against voter suppression across the country. Click here to register.
---
#Filibuster FridaysEach Friday, Indivisible members across New York send social media messages to members of Congress to tell them why we must end the Filibuster! Click here for a social media toolkit.
---
Summer Hiatus

The newsletter is going on hiatus until after Labor Day. Enjoy the rest of the summer!
---
DemCast is an advocacy-based 501(c)4 nonprofit. We have made the decision to build a media site free of outside influence. There are no ads. We do not get paid for clicks. If you appreciate our content, please consider a small monthly donation.
---