NEWS & UPDATES
Video and Additional Information,
Hunger in our Midst: Fighting the Rising Tide 
Food Insecurity in Pinellas County
Link to List of Food Banks in Pinellas County
Thanks to everybody who participated in or attended our presentation last Tuesday. The program was interesting and informative. As follow up to the webinar, we are sharing a few resources we hope will be useful. Linked above is a list of food banks and soup kitchens in Pinellas County. You may also be interested in the following organizations' work in this area:
Pinellas Community Foundation
17755 US Highway 19 N, Suite 150
Clearwater, FL  33764  
727-531-0058
Email: info@pinellascf.org
https://pinellascf.org/about/overview/
Foundation for a Healthy St. Petersburg
2333 34th St. S
St. Petersburg, FL 33711
727-865-4650
https://healthystpete.foundation/contact/
Note: The Food Policy Council is housed under the Foundation.
We encourage you to get involved in fighting food insecurity in any way that you can.  All efforts to alleviate the difficulties so many residents currently face are important and needed.  Again, thank you for your concern and engagement in this issue.
---
Pinellas Remembers Unveils Lynching Memorial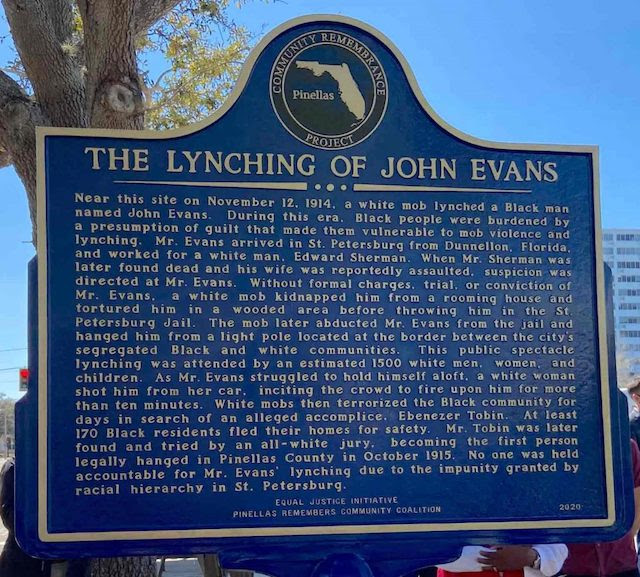 The Community Remembrance Project Coalition unveiled the lynching memorial marker on February 23. Here is a link to the live stream:
The ceremony was solemn and affecting.
Also – here is coverage from EJI itself of the work of Pinellas Remembers
---
Support Rep. Ben Diamond's (District 68) M-Cores Repeal
We are urging our members to support Rep. Ben Diamond's proposed legislation to repeal the M-CORES toll roads. Email committee chair Brad Drake (R ) and District 70 member Linda Cheney (R)to urge them to place the bill on the committee agenda. (Emails: drake.brad@myfloridahouse.gov, chaney.linda@myfloridahouse.gov
---
Sign Up For UUJF Action Alerts
Unitarian Universalist Justice Florida founder and Indivisible Florida Network Member David Johnson keep track of the Florida Legislature and send out Action Alerts during the legislative session, which is currently in session. We've been passing along these on our Facebook but it is best to receive these directly.
Sign Up For UUJF Action Alerts
---
WEEKLY DEMONSTRATION AT SENATORS MARCO RUBIO AND RICK SCOTT'S TAMPA OFFICE
Demonstrators must wear masks and practice social distancing. Parking meters around the courthouse accept cash or credit cards. FMI on the Tuesday Demonstration and to get on John Stewart's excellent and informative mailing contact him at sjstew@gte.net or  (727) 894-2832.
 
Every Tuesday from 10:30-11:30 AM
Sam M. Gibbons U.S. Court House
801 N. Florida Ave.   Tampa, FL 33602
---
Indivisible FL-13 Contact Information:
Indivisible FL-13 is a member of the Indivisible Florida Network and the Pinellas Coalition For Immigration Justice.
Indivisible Florida Network
Pinellas Coalition For Immigration Justice Website
Indivisible FL-13 Website
Email Indivisible FL-13 at info@indivisiblefl13.com
Useful Tools:
Pinellas County Progressive Calendar

Resist Bot, fax your representatives via text message. Text RESIST to 50409

Fax your congressperson for free at FaxZero.com

Get action alerts from Countable.us

Register to vote, vote by mail!
Florida 13 Congressperson Phone Numbers:
Senator Marco Rubio (R):                DC (202)224-3041   Local (813)287-5035
Senator Rick Scott (R):                    DC (202) 224-5274 
Representative Charlie Crist (D):     DC (202) 225-5961  Local (888)205-5569
---
DemCast is an advocacy-based 501(c)4 nonprofit. We have made the decision to build a media site free of outside influence. There are no ads. We do not get paid for clicks. If you appreciate our content, please consider a small monthly donation.
---