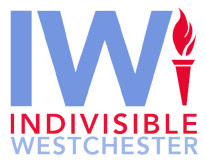 Early Voting Is Underway
Early voting starts today in Georgia and runs through the end of the month.
Making phone calls and texting voters are the best ways to help Get Out The Vote and we need all hands on deck to help flip these two Senate seats!
Find out more about Reverend Raphael Warnock's campaign for U.S. Senate.
Find out more about Jon Ossoff's campaign for U.S. Senate.
Phone Banking
Text Banking
Postcarding
Westchester County BudgetCounty legislators will speak about the budget following their Monday vote. Click here for details.
Help Combat Vaccine Disinformation

 "America is on the cusp of distributing a publicly available vaccine for COVID-19. Unfortunately, America is also on the cusp of a disinformation tsunami centered around the vaccine," according to the Click Alt Right Delete newsletter. Educate yourself and help dispel myths about the vaccine. Click here for links to reputable sources of information that you can trust. Click here for more information about what disinformation is and why it's effective.
We are Indivisible.
---
DemCast is an advocacy-based 501(c)4 nonprofit. We have made the decision to build a media site free of outside influence. There are no ads. We do not get paid for clicks. If you appreciate our content, please consider a small monthly donation.
---