Photo by NESA by Makers via Unsplash
Don't miss Tuesday night's Social Media Bootcamp! We are all part of the social media army for the candidates we support and the causes we are fighting for – THEY NEED OUR HELP! This is basic training so that we can be proactive and productive. No technology skills required. Register today: https://bit.ly/disinfo-social-bootcamp
July 14 from 7:00PM to 8:30PM (Session 2)
We will discuss how to best amplify content on social media. We will show you how you can be most effective as we head into Election 2020, even if you are completely new to social media.
Click here to watch the Session 1, a presentation on Disinformation – what it is, how to spot it, and how to stop it. Be sure to also check out Disarmdisinfo.com for more useful information.
Tune in to hear testimony from voting advocacy experts about what needs to be done to make sure Westchester avoids some of the problems voters experienced during the June primary so that the November general election goes smoothly.
Meantime, the BoL is taking written comments from voters regarding those primary problems – missing absentee ballots, long lines, incorrect information about polling locations, etc. You have until 5 PM on July 15th to submit your comments.
● In writing: Comments can be submitted in writing by emailing BOLPublicComments@westchesterlegislators.com or mailing them to the Clerk of the Board of Legislators, 148 Martine Ave., 8th Floor, White Plains, NY 1060.
Please participate so that you can help legislators identify problems that need to be addressed in advance of the general election. The November election is one of the most important elections in our lifetime!
You can help Westchester bring it home for Biden! Be sure to check out the newly launched New York for Biden 2020 Website!
There are only 112 days until the November election! Looking for ways to get involved from your home? The Indivisible Westchester website has a ton of ideas – everything from helping to flip seats in swing states to getting out the vote for Biden here at home. Postcard! Text! Phone Bank! Flip the West, Open Progress, Westchester for Biden and more are all here in once place. Click here to take action now! Don't wait.
Rescheduled from last week because of the weather.
SUPPORT ASYLUM SEEKERS!
Click here to submit a comment opposing new rules proposed by the Department of Homeland Security (DHS) that would create nearly a dozen new bars to asylum, decimating what is left of our asylum laws. The proposed regulation would, among other changes:
Deprive asylum seekers of their day in court. Immigration judges would be allowed to deny asylum without a court hearing, basing their ruling on information taken by officials at the border
Eliminate gender-based asylum. LGBT individuals whose orientation endangers their lives; victims of rape or other forms of gender violence, and women fleeing domestic violence would be denied.
Restrict asylum for political persecution if it involves non-state actors such as gangs, non-governmental or terrorist organizations
Change how the UN Convention on Torture is interpreted
The government will accept comments by July 15th.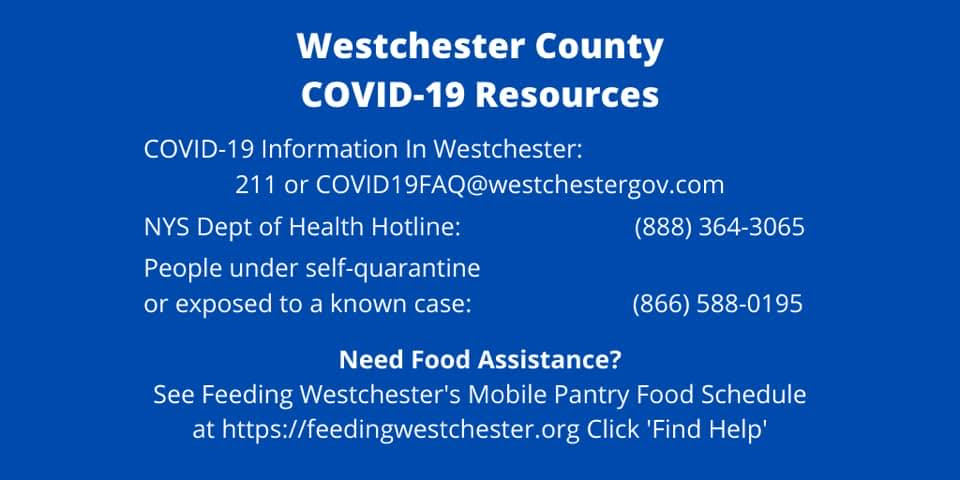 Here is a list of what can open during the four phases outlined by the state.
Antibody testing is now available at the Westchester County Center. Call 914-326-2060 for more information.
Ways To Help Those In Need:
Masks are in short supply. Help out @ www.sewforny.org
Call (914) 849-GIVE or email wphcmail@wphospital.org to contribute to White Plains Hospital's COVID-19 Relief Fund
New York-Presbyterian Hospital, in addition to accepting masks, gloves and protective eyewear, would also accept funds for food for the health care workers and old iPads to help patients in hospitals stay connected with loved ones. You can email NYP at masks@NYP.net
Greenwich Hospital has created a donation page for financial donations. Http://giving.greenhosp.org/giving/covid-19/support/funds/
Here are some Domestic Violence hotlines and resources:
Westchester County
Hope's Door, Inc. (888) 438-8700 – Provides both residential and non-residential domestic violence services. OCFS Licensed and Approved.My Sisters' Place (800) 298-SAFE/7233 – Provides both residential and non-residential domestic violence services. OCFS Licensed and Approved.Westchester County Office for Women– Provides non-residential domestic violence services. OCFS Licensed and ApprovedFamily Helpline/Hotline weekdays 9am – 5pm (914) 995-5972Weekend and after hours (914) 995-2099Spanish Language (White Plains) (914) 995–6581
Spanish Language (Yonkers) (914) 231-2882
Get a Complete Count
Make sure to fill out your Census form today – click here to get started. Many Westchester towns are lagging below their 2010 response rates. It's imperative that we all fill out the Census. Please check with your family, friends and neighbors to make sure they've filled out the Census. Email, call or text them a friendly reminder!
Together, we stand Indivisible against the Trump administration.
---
DemCast is an advocacy-based 501(c)4 nonprofit. We have made the decision to build a media site free of outside influence. There are no ads. We do not get paid for clicks. If you appreciate our content, please consider a small monthly donation.
---