---
Problems At the Polls? Make Your Voice Heard!
Public Voter Hearing is Wednesday, July 8th @ 7PM
In order to achieve a well run general election in November, it's important to identify what problems occurred during the June 23rd primary – from absentee ballots that never arrived, to hiccups with early voting and long lines on election day. It's crucial that each and every one of you who encountered an issue shares your story by participating in the upcoming public hearing organized by the Board of Legislators on July 8th @ 7PM.

There are three ways to share your experiences:
●       Online:  To register to speak via the Board's Webex online teleconferencing system, please click this link: https://westchestergov.webex.com/westchestergov/onstage/g.php?MTID=e544cf7dd60ae8922a643c64a2ea73444.  Speakers will be called in the order of registration.
●       By Telephone: Participants who wish to speak by phone should register by 3 p.m. July 8. To register, members of the public may call (914) 995-2800. Please leave a name and a callback number where we can reach you when the comment session begins. 
●       In writing: Comments can be submitted in writing by emailing BOLPublicComments@westchesterlegislators.com or mailing them to the Clerk of the Board of Legislators, 148 Martine Ave., 8th Floor, White Plains, NY 1060.  Written comments must be received by 5 p.m. on July 15, 2020.
The session will be streamed live and archived on the Board's website, http://www.westchesterlegislators.com

Please participate so that you can help legislators identify problems that need to be addressed in advance of the general election! The November election is one of the most important elections in our lifetime and we must be prepared.
---
Join us for a two-part social media bootcamp. We are all part of the social media army for our candidates this November and THEY NEED OUR HELP! This is basic training so that we can be proactive and productive. No technology skills required.
July 7 from 7-8:30
Session 1 we cover the basics of disinformation: What does disinformation – real "fake news" look like today? What makes some things go viral? How do we respond or fight back?
July 14 from 7 to 8:30
Session 2 we will discuss the dynamics and how-to's of amplifying content on social media. We will show you how you can be most effective as we head into Election 2020, even if you are completely new to social media.
Register here: https://bit.ly/disinfo-social-bootcamp
---
There are only 119 days until the November election! Looking for ways to get involved from your home? The Indivisible Westchester website has a ton of ideas – everything from helping to flip seats in swing states to getting out the vote for Biden here at home. Postcard! Text! Phone Bank! Flip the West, Open Progress, Westchester for Biden and more are all here in once place. Click here to take action now! Don't wait.
---
---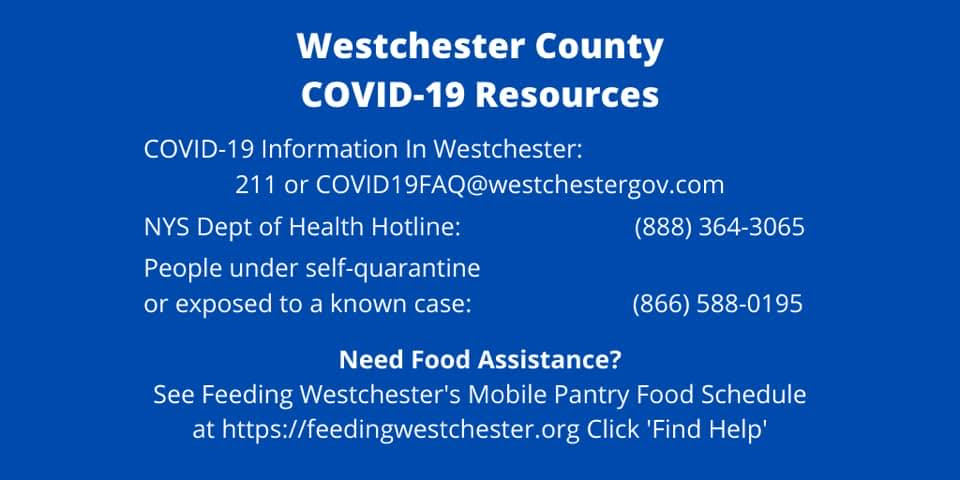 Here is a list of what can open during the four phases outlined by the state.
Antibody testing is now available at the Westchester County Center. Call 914-326-2060 for more information.
Ways To Help Those In Need:
Masks are in short supply. Help out @ www.sewforny.org
Call (914) 849-GIVE or email wphcmail@wphospital.org to contribute to White Plains Hospital's COVID-19 Relief Fund
New York-Presbyterian Hospital, in addition to accepting masks, gloves and protective eyewear, would also accept funds for food for the health care workers and old iPads to help patients in hospitals stay connected with loved ones. You can email NYP at masks@NYP.net
Greenwich Hospital has created a donation page for financial donations. Http://giving.greenhosp.org/giving/covid-19/support/funds/
Here are some Domestic Violence hotlines and resources:
Westchester County
Hope's Door, Inc. (888) 438-8700 – Provides both residential and non-residential domestic violence services. OCFS Licensed and Approved.
My Sisters' Place (800) 298-SAFE/7233 – Provides both residential and non-residential domestic violence services. OCFS Licensed and Approved.
Westchester County Office for Women– Provides non-residential domestic violence services. OCFS Licensed and Approved

Family Helpline/Hotline weekdays 9am – 5pm (914) 995-5972
Weekend and after hours (914) 995-2099
Spanish Language (White Plains) (914) 995–6581
Spanish Language (Yonkers) (914) 231-2882
---
Get a Complete Count
Make sure to fill out your Census form today – click here to get started. Many Westchester towns are lagging below their 2010 response rates. It's imperative that we all fill out the Census. Please check with your family, friends and neighbors to make sure they've filled out the Census. Email, call or text them a friendly reminder! 
---
Together, we stand Indivisible against the Trump administration.
---
Indivisible Westchester
PO Box 214
Larchmont, NY 10538
---
DemCast is an advocacy-based 501(c)4 nonprofit. We have made the decision to build a media site free of outside influence. There are no ads. We do not get paid for clicks. If you appreciate our content, please consider a small monthly donation.
---