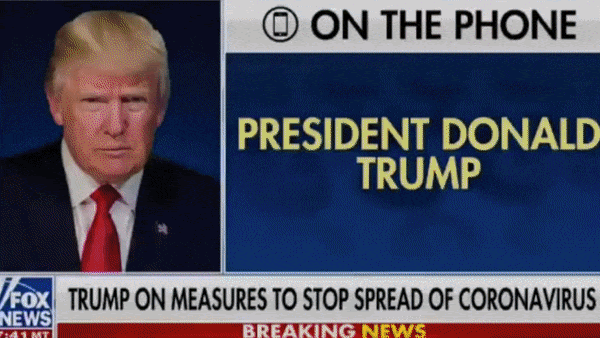 Less is more.
Keep your message crisp. Use humor. Optimize for phones and social media.
Activists responded quickly to the President's Coronavirus hunches. They used free apps to create a short video and GIF.
GIFs are images that play automatically on a web page or in a tweet. GIFs outperform videos for engagement as more people use Twitter and Instagram on phones without sound.
Creating the GIF
Identify source material
President Trump's phone interview with Sean Hannity was downloaded. ( 93 Mb file )
"Trump floats his own coronavirus hunches on 'Hannity'. The president contradicts public health experts statements on death rate, contagion."
Create video
The team used iMovie, a free app to extract the relevant quotes. These segments were combined and overlaid with Coronavirus images to produce a 20 second video. (18.5 Mb file )
Convert the video into a GIF
Next they converted the 20 second video created into a 11.8 second GIF with EZGIF, a free app. This step converts the video into a sequence of images and removes the sound track. An amusing GIF was obtained from Giphy, a free web site. The GIF  was 'optimized' to reduce its size and download time. ( Size 9.8 Mb )
Caption & translate
Caption videos as people prefer to watch them in 'MUTE'. Captions also make GIFs more effective even they do not have an audio track. EZGIF offers a number of features to improve GIFs and the ability to add text. The video was automatically translated into Spanish using an external service.
Takeaway
Make your messages short and funny to increases engagement and more likely to be shared.
Move fast. Use the news cycle for earned media.
Caption and translate your video to reach more people.
Cut costs. Use free apps to create videos and GIFS.
Deepak
Co-Founder, DemLabs
Please share this bulletin. DemLabs is a SF-based, progressive hub for ongoing technology and creative innovation with free and affordable apps. Donate here to support our work.
---
DemCast is an advocacy-based 501(c)4 nonprofit. We have made the decision to build a media site free of outside influence. There are no ads. We do not get paid for clicks. If you appreciate our content, please consider a small monthly donation.
---