Sometimes legislative speech can be really hard to understand.  If you are trying to figure out what the Impeachment Rules Resolution, released by House Speaker Nancy Pelosi and the House Democrats means and got lost in the lingo, you are not alone. 
---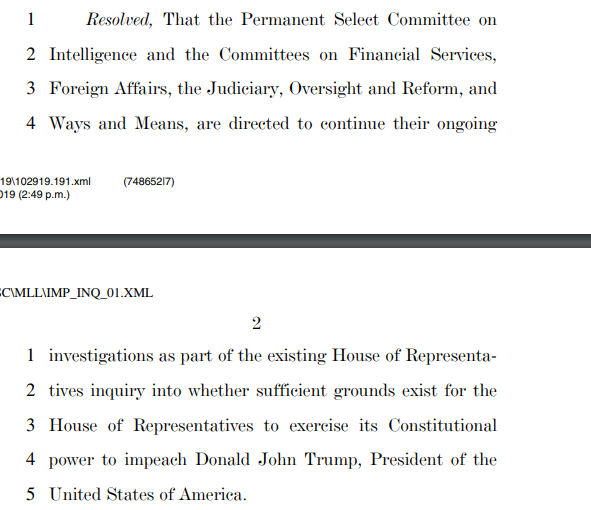 First part – Resolved. All the same groups that had been working on stuff (Rep. Adam Schiff's Permanent Select Committee on Intelligence, Rep. Maxine Waters' Committee on Financial Services, Rep. Eliot Engel's Foreign Affairs Committee, Rep. Jerry Nadler's Judiciary Committee, the late Rep. Elijah Cummings' Oversight and Reform Committee, and Rep. Richard Neal's Ways and Means Committee) should keep working on stuff.
---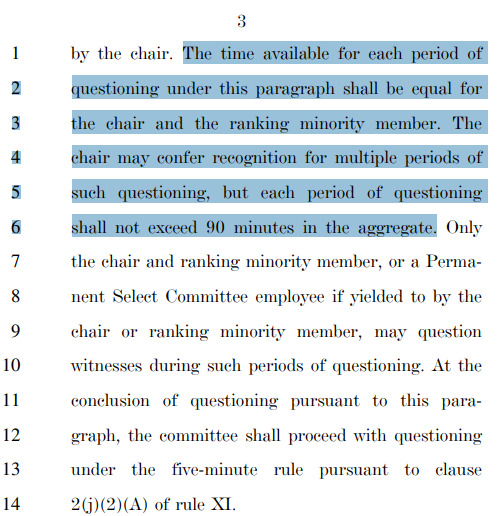 Section 2 (1&2) – The House Intel Committee decides on open hearings. Both parties get equal time. They don't have to do that goofy, unhelpful 5 minute thing, but "shall not exceed" 90 minute chunks of time. Instead, the Chair and Ranking Member can have employees (read- professional prosecutors/attorneys) handle the questioning.
---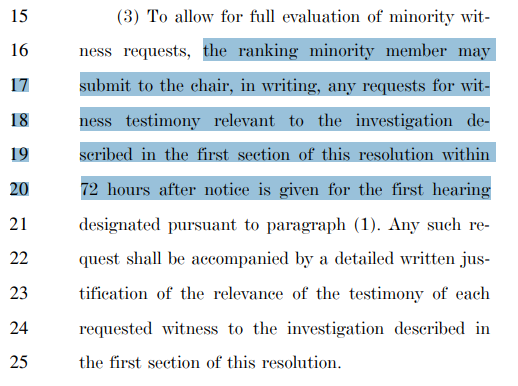 Section 2 (3) – The minority can call witnesses, but Rep. Devin Nunes doesn't just get to spring them on everyone last minute.  He has to put requests, in writing with explanation of why he wants them to testify, in advance.
---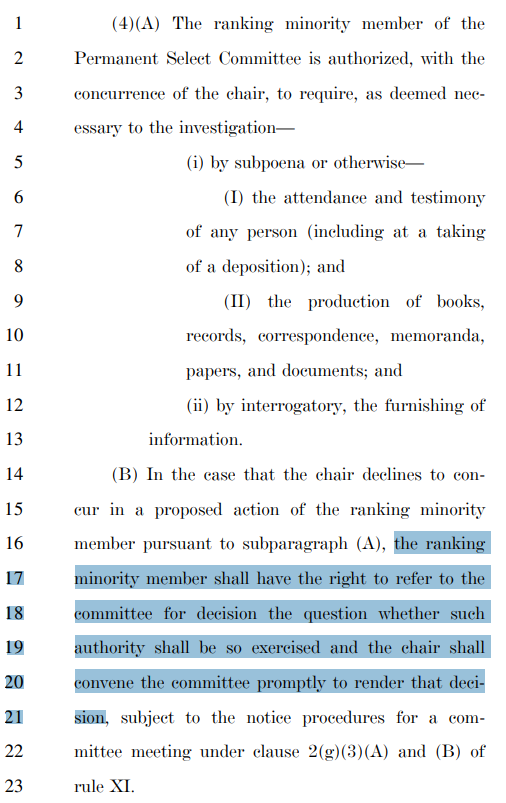 Section 2 (4)A&B – If Adam Schiff concurs, Devin Nunes can subpoena people/records.  If Schiff doesn't agree, Nunez can take it to the full Intel Committee to decide.  
---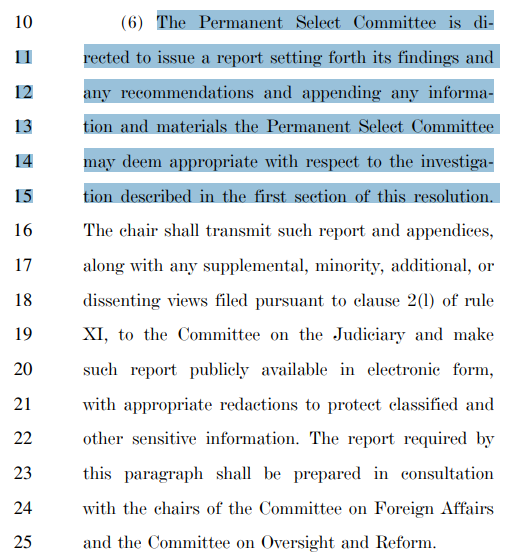 Section 2 (5) – Adam Schiff can make transcripts available electronically, with redactions as needed.
Section 2 (6) – The House Intel Committee  will write up a report of their conclusions in consultation with the other involved committees, and it is to be made public
---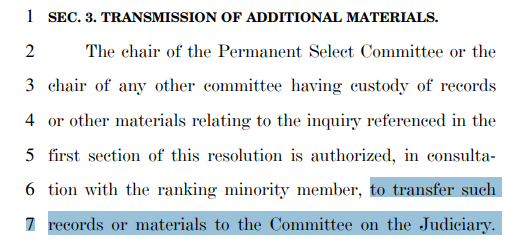 Section 3 – Adam Schiff or any of the other committee chairs who have materials or evidence have to turn them over to Rep. Jerry Nadler and the House Judiciary Committee.
---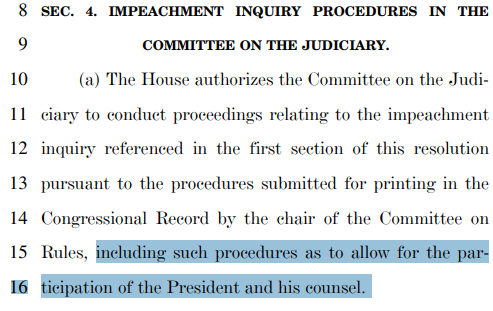 Section 4 is where we get into all interesting stuff.
part (a) – Rep. Jerry Nadler and the House Judiciary Committee will conduct the Impeachment Inquiry proceedings, and they will include the President and his counsel.
---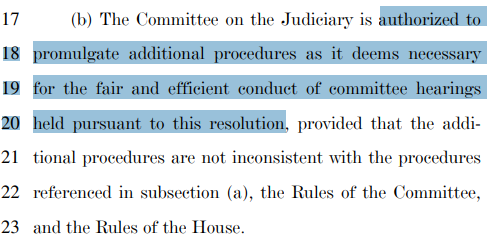 Section 4 (b) – The House Judiciary Committee can come up with new procedural rules, if needed "for the fair and efficient conduct of committee hearings" as long as they follow general House rules.
---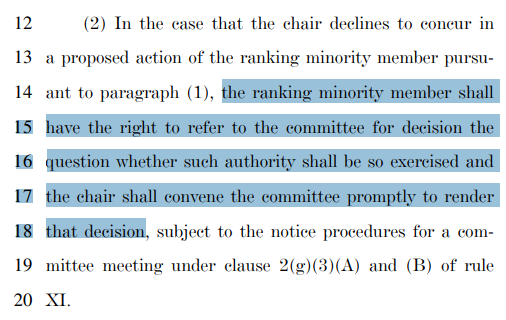 Section 4 (c) – Rep. Doug Collins, the ranking member in Judiciary, gets the same consideration that Rep. Nunes got in Intel. If Chairman Nadler agrees, he can subpoena people/records. If Chairman Nadler disagrees, Ranking Member Collins can take it to the full committee.
---
And that's pretty much it – straightforward rules that keep the Democrats in control of the process, but gives the minority rights. Best part, it doesn't require rigid adherence to that 5-minute rule that is so annoying to watch.
Hope that helps!
Originally posted on Twitter. Re-posted with permission.
---
DemCast is an advocacy-based 501(c)4 nonprofit. We have made the decision to build a media site free of outside influence. There are no ads. We do not get paid for clicks. If you appreciate our content, please consider a small monthly donation.
---